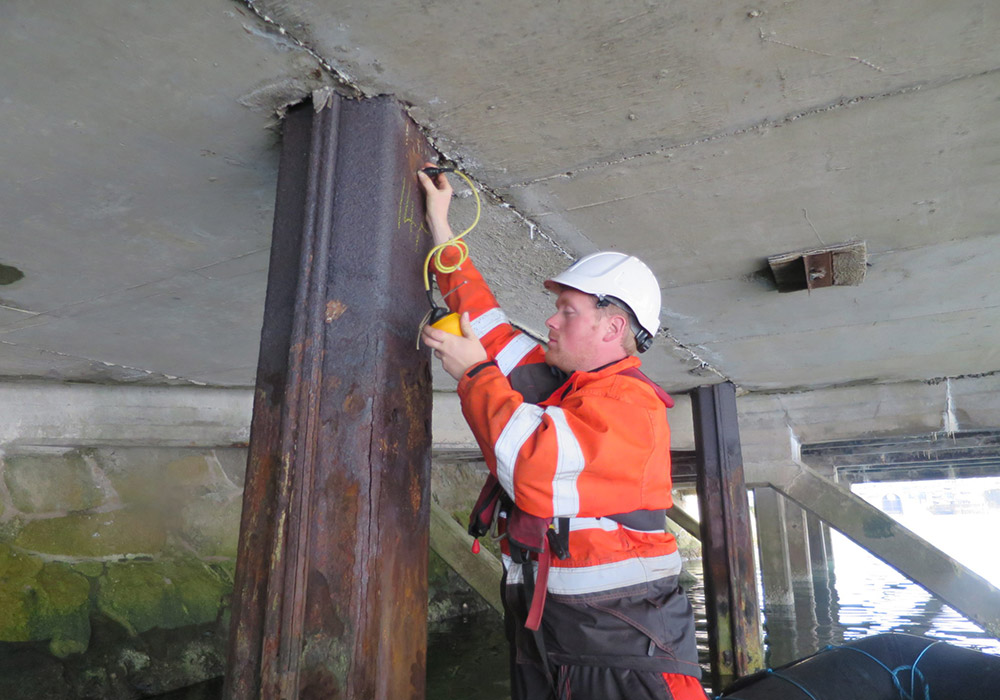 Berth 1: Sea Bed and Pile Inspections
Dun Laoghaire Harbour, Co. Dublin
Client:            Dun Laoghaire Harbour Company
Client Rep:    Waterman-Moylan Consulting Engineers
Project Overview
Dive and Marine Contractors were contracted by Waterman-Moylan on behalf of Dun Laoghaire Harbour Company to carry out a detailed inspection and Survey of the In-filled Wharf at Berth 1 Dun Laoghaire. Dive and Marine Contractors had carried out the previous Structural Inspection to Berth 1 in 2014 which identified areas that now require further investigation.
These additional investigations included the Excavation to a depth of one meter below sea bed on support piles, to allow None Destructive Testing (NDT's) to be carried out.  Structural dimensions were recorded along with a detailed photographic survey of all elements of the Pile structure. 
Project Outcome
At all times Dive and Marine Contractors liaised with Port authorities and the Client Rep and carried out operations, safely, on time and within budget.
A detailed two volume report was compiled which included detailed drawings of pile layout including sections, schedule of inspection data, defects table, table of ultrasonic thickness (UT) results and a detailed photographic log. This document will be an essential part in the process of developing a suitable approach to the future development of Dun Laoghaire Harbours listed asset.